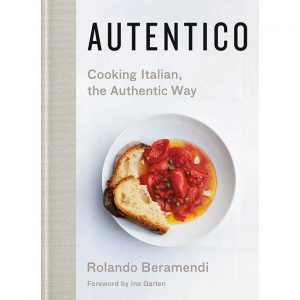 Want to fall in love with Italy? Want to fall in love (just a little) with Rolando Beramendi? Watch his book trailer. Yes, we want to go to, but we'd settle for sharing just one meal with Rolando while he's in New York. His spirit is a beautiful thing. Sometimes in this life, you come across people with whom you'd like to eat. One conversation, and we were smitten. His new cookbook, Autentico: Cooking Italian, the Authentic Way, is beautiful too.
Cooking Italian food in an authentic way, to Rolando's way of thinking, is keeping it simple, simple, simple. Because we like to flex our culinary muscles as Americans, we can tend to overdo dishes. More is better, right? More cheese, more spice, more everything! His recipes prove otherwise and give us a glimpse of what Italians put on their tables night after night. Fresh tomatoes. Basil. Parmigiano-Reggiano and pecorino (yes!). Pasta. Beans. Grains, too: rice and farro. So much zucchini. Lemons. Everything fresh, un-fussed around with. It's glorious.
Autentico will make you slow down, cook purposefully, with good ingredients, and for the ones you love. That's what it's all about, isn't it?
Get a taste of Autentico:
Shaved Fennel, Porcini, and Pecorino
Pizza Without Crust
Extra-Virgin Olive Oil Cake