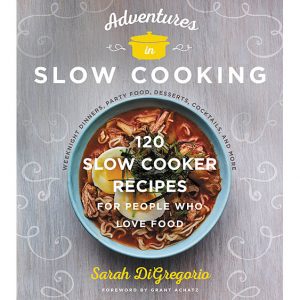 Sure, you want to use your slow cooker as a convenience tool. . .but you also love to cook. Food writer and journalist Sarah DiGregorio's new book, Adventures in Slow Cooking includes 120 recipes for people just like you: busy people who want a wholesome, interesting meal on the table (emphasis on the interesting!). You're also people who are willing to go through the effort of an extra step or two like searing the beef before adding it to the slow cooker or toasting some spices or letting chicken sit under the broiler for five minutes after cooking to crisp up the skin. Sarah's book is all about payoff—and playing to your slow cooker's strengths. Let it do what it does well.
And, what it does well is SO many things, so get ready to use your slow cooker for dishes that go beyond weeknight meals and Sunday dinners. Think: party food, desserts, and even warm cocktails (Sarah knows her way around hot toddies, warm bourbon punches, and Mexican hot chocolate, to name a few). I thought the slow cooker party ideas were enough to keep this book within reach.
• ON-DEMAND: Listen to our conversation with Sarah for recipes and her slow cooking tips. •
Chris Prosperi made Sarah's Miso-Butter Roast Chicken and Potatoes for us as our pre-show meal and, let's just say there weren't any leftovers. Sarah's trick for keeping this dish flavorful is adding the miso flavor at multiple points in the cooking process—reinforcing it. Slow cookers tend to mellow flavors, but not if you use Sarah's technique. (Steal it for other slow-cooked dishes, too).
Get the book and have your own adventures. This is modern slow cooking at its best and most delicious.
Get a Taste of Adventures in Slow Cooking
Miso-Butter Roast Chicken and Potatoes
Winter Tomato Sauce
Sticky Toffee Pudding with Maple Caramel
— Robyn Doyon-Aitken
senior producer