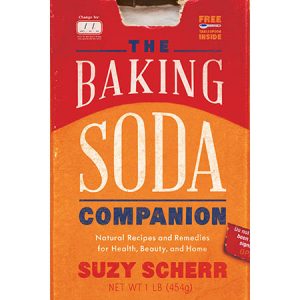 We love books about one specific thing because they're often so surprising. The Baking Soda Companion, by Suzy Scherr fits the bill. After flipping through this fun, practical book, you may find yourself asking, What can't baking soda do?
• ON-DEMAND: Listen to Faith and Suzy talk about the recipes in this book, along with many clever uses for baking soda. •
In this book, Suzy tells you exactly how to use baking soda in your cooking and cleaning, as well as for a multitude of other handy household purposes: polish silver, remove red wine stains, deodorize a gym bag, scrub your grill grates, clear a clogged drain, un-crust your microwave, freshen up towels, sweeten your tomato plants. You can even use baking soda as a fruit- and veggie-wash or mix a tiny bit with two drops of dish soap to wash an entire load of dishes. We love using regular ol' kitchen staples as a "rescue" product or as part of a kitchen hack.
Suzy is a trained chef and cooking instructor, so of course she found ways to put baking soda to work in her recipes (and we're not just talking about baking, here).
Three Ways to Use Baking Soda in Your Cooking:
Fluffiest Scrambled Eggs
Dreamy, Crispy Roasted Potatoes
Homemade Ramen Noodle Hack
Go ahead, experiment. What other (safe!) uses for baking soda can you come up with?