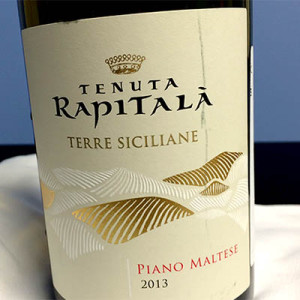 Born in Sicily, this unique white wine, Tenuta Rapitalà, Piano Maltese 2013, is a blend of Cataratto and Grillo grapes, plus a bit of Chardonnay. It is THE value wine of the season. Retailing for $10 – $12 a bottle, it's perfect with spring foods from fish on the grill to chicken to young roots and veggies. Faith calls it weeknight wine, weekend wine, party wine, walking-around wine. . .really, it's an everyday wine with apple, pear, and lemon zest notes that Mark loves. He also loves that it has the right amount of acidity, pleasant mouthfeel, great body, great everything.
We had it with Slow-Cooked Salmon with Spring Vegetables, a recipe Diane Morgan shared and that Chris served for our pre-show meal. It complimented our meal beautifully. We imagined drinking it again and again, all season long, and well into summer.
Learn more about this wine by listening to the show on-demand now.
Stats:
Tenuta Rapitalà, Piano Maltese 2013
Origin: Sicily
Distributor: Frederick Wildman and Sons
Price: $10 – $12