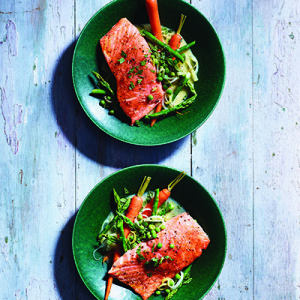 Along with April's springtime showers comes the anticipation of freshly dug baby carrots, tender shoots of asparagus, young spring leeks, and sweet English peas at the farmers' market. It's time to celebrate the season with a dish that goes together easily for a weeknight supper and is festive enough for a dinner with friends.
Reprinted with permission from Salmon: Everything You Need to Know + 45 Recipes, by Diane Morgan, ©2016, published by Chronicle Books. Photography ©2016 by Leigh Beisch.
Want More? Read about Diane's book, get more recipes for salmon, and listen to this episode of The Faith Middleton Food Schmooze® to hear Diane share more tips for cooking salmon.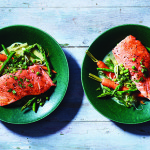 Do all your prep work in advance, and you'll be ready to serve this main course in less than a half hour.
| | | |
| --- | --- | --- |
| | | Do all your prep work in advance, and you'll be ready to serve this main course in less than a half hour. |
Remove the salmon from the refrigerator 30 minutes before cooking to bring it to room temperature. Pat dry with paper towels.

Position a rack in the center of the oven and preheat the oven to 250°F [120°C]. Line a small rimmed baking sheet or baking pan with parchment paper.

Arrange the salmon fillets on the prepared baking sheet. Rub each fillet all over with olive oil and season with salt and black pepper and the cayenne.

Bake the salmon until it is almost opaque throughout but still very moist, or an instant-read thermometer inserted into the center registers 115° to 120°F [45° to 49°C], 15 to 20 minutes. (When the salmon is cooked gently at such a low temperature, it looks underdone because the color is so beautifully pink and vivid, but it is fully cooked.)

While the salmon is baking, set a 10-in [25-cm] frying pan over medium-high heat, add the wine and water, and bring to a boil. Add the carrots, leek, and 1/2 tsp salt. Turn the heat to medium and simmer until the carrots are crisp-tender, 12 to 15 minutes.

Meanwhile, fill a small saucepan two-thirds full with lightly salted water and bring to a boil over high heat. Add the aspara¬gus, adjust the heat to a simmer, and cook until the asparagus is crisp-tender and bright green, 3 to 4 minutes. Drain in a colander, rinse under cold running water, and blot dry.

When the carrots are tender, remove the pan from the heat. Using a heat-resistant rubber spatula, stir the butter, a chunk at a time, into the wine mixture until emulsified. Season with salt and black pepper. Return the pan to the heat and add the asparagus and peas. Warm just until the asparagus and peas are heated through. Stir in the mint.

Divide the vegetables and sauce evenly among warmed shallow pasta bowls. Place a salmon fillet on top and garnish with a little mint. Serve immediately.