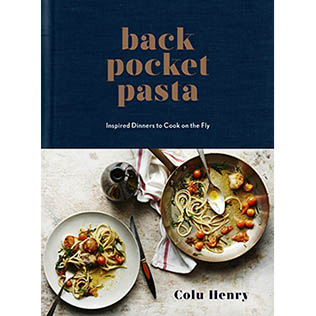 Here's a game plan you might want to consider: flip through Colu Henry's new cookbook Back Pocket Pasta, use her guide to fill your pantry and fridge with the staples every home cook should have on hand at all times, then start flagging recipes to cook your way through this book.
The great-granddaughter of southern Italian immigrants, Colu (creator of the hashtag #backpocketpasta you see everywhere online) ate pasta two to three times a week growing up. Lucky kid! And now—we're convinced—the way to have pasta every day is to eat it the way Italians do – as part of the meal, but not the central ingredient. It's one element on the plate. . .but it's sharing the limelight with flavorful veggie-loaded sauces and proteins and seafood that balance out pasta.
• ON-DEMAND: Listen to Faith and Colu talk about the recipes in Back Pocket Pasta. •
Back Pocket Pasta is made up of recipes inspired by Colu's family and her homes in Brooklyn and the Hudson Valley, as well as her travels in Mexico, Italy, and Spain. She's got a ready pantry in every spot and knows how to put it to good use. There's a little bit of everything here, and surely a pasta dinner or ten—maybe dozens—your family would love to put in regular rotation wherever your well-stocked pantry might be.
Get a taste of this book:
Pasta Puttanesca
Porchetta Pasta
Easter Ham Pasta Carbonara
— Robyn Doyon-Aitken
Senior Producer