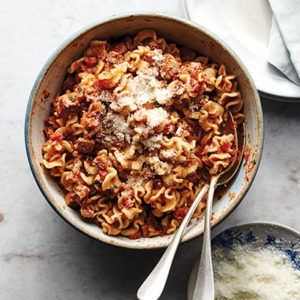 You can turn anything into a hearty pasta dish with leftover meat. Roast pork shoulder, pot roast, coq au vin all work well here—it's really just a matter of using up the protein you have on hand. Not all of us are lucky enough to have Mona Talbott's porchetta readily available, but if you're coming up this way, it's worth stopping at Talbott & Arding (and grabbing enough for your back pocket pasta). Or seek porchetta out at your local Italian butcher. While we waited for the construction on our house to finish, I found myself itching to make dinner with no kitchen to cook in. Our kind neighbors Roger and Brad allowed this pasta princess to cook for them at their place one Sunday evening, and into the sauce went our extra porchetta.
— Colu Henry
ON-DEMAND: Listen to Faith and Colu talk about this recipe and others from Back Pocket Pasta.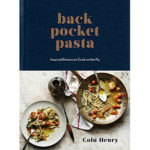 Reprinted from Back Pocket Pasta. Copyright © 2017 by Colu Henry. Photographs copyright © 2017 by Peden + Munk. Published by Clarkson Potter/Publishers, an imprint of Penguin Random House LLC.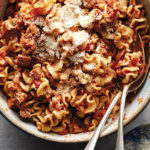 Bring a large pot of water to a boil. Add 2 tablespoons of the salt and return to a rolling boil. Add the pasta and cook until al dente.

While the pasta cooks, prepare the sauce: Heat the oil in a 12-inch skillet over medium heat. Add the onion and cook until softened, about 4 minutes. Add the porchetta and cook 3 minutes more.

Pour in the wine and deglaze the pan, scraping up the browned bits on the bottom of the pan. Stir in the tomatoes and half of the parsley. Fill the tomato can halfway with water, swish it around, and add the water to the pan. Season with salt and pepper. Allow the sauce to simmer for 12 minutes.

Add the pasta directly to the skillet and toss to coat, adding 1/4 cup pasta water or more (up to 1 cup), as needed to loosen up the sauce.

Plate in bowls and top with the remaining parsley. Pass the Pecorino Romano at the table.