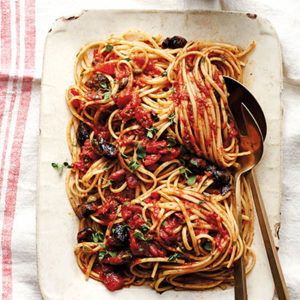 Pasta every day! This week on The Faith Middleton Food Schmooze®: Back Pocket Pasta. Recipes and tips from author Colu Henry on how to stock your pantry so you can pull together inspired pasta dinners on the fly. Think: Pasta Puttanesca, an Easter Ham Carbonara, and Porchetta Pasta (you can make this with any leftover roast!). Your weeknights just got easier. Plus, Chris Prosperi explains how to trim and prep one of our favorite spring ingredients—artichokes.
Aired: April 30, 2020 and May 9, 2019 (originally aired March 30, 2017).
Photo: Copyright © 2017 by Peden + Munk.
CONTRIBUTORS AND GUESTS:
• Chris Prosperi — chef/owner, Métro Bis in Simsbury, Conn.
• Mark Raymond — wine expert
• Robyn Doyon-Aitken — senior producer
• Colu Henry — author of Back Pocket Pasta
MUSIC:
• "Can't Stop the Feeling," Justin Timberlake
• "We Are Family," Groovestylerz
• "Beans and Cornbread," Louis Jordan and The Tympany Five
• "Artichoke," Charming Disaster
• "Back Pocket," Vulfpeck
• "Everybody Eats When They Come to My House," Cab Calloway