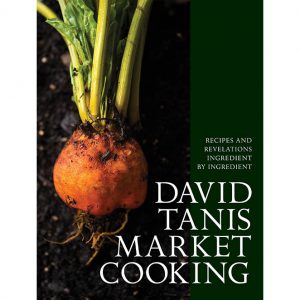 If you read David Tanis's column in the New York Times, or you've read any of his previous cookbooks, you know his philosophy: simple food is good food. And good food, simply prepared, is a joy. David Tanis Market Cooking is a veggiephile's dream.
• ON-DEMAND: Listen to Faith talk with David about his book. •
Ingredient by ingredient (starting with garlic, of course), David describes the essence of the ingredient—and sometimes its history, along with glorious ways to prepare it—preserving that essence. Nothing is drowned in sauce here. Herbs are essential. Tomatoes are for August. Sometimes all you need with a peak-of-season vegetable is olive oil, a few shavings of parmesan, some good salt, maybe a squeeze of lemon. In this book, less is always much, much more.
Get a taste of David Tanis Market Cooking:
Flank Steak Tagliata with Salsa Verde
Perfectly Steamed Asparagus
Baked Peppers with Feta and Bread Crumbs
— Robyn Doyon-Aitken
senior producer