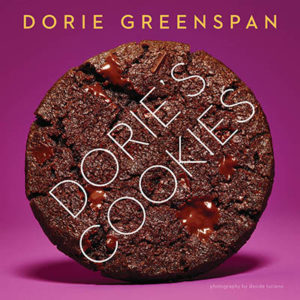 Dorie Greenspan is an icon. Like Madonna and Cher and Beyoncé, she can go by only one name, and you know exactly who I'm talking about. There can be no other Dorie associated with Dorie's Cookies. She's the one and only. If there's someone out there more passionate about cookies, I'd like to meet her.
Dorie's Cookies is a joy to bake through. She'll stretch the definition of cookie in the best possible ways. Whoopie pies? Yeah, they're cookies here. Blondies, brownies, and bars? They're cookies too. You'll find Dorie's created cookies made with Triscuits and matzos and popcorn. Why the heck not?
You'll also find plenty of Dorie's classics: World Peace Cookies, Christmas Spice Cookies, 3-Ingredient Almond Crackles, Gingersnaps, biscotti, sables, shortbread, thumbprints (several thumbprints!), and chocolate chip cookies for all time and of the moment.
If you love to bake—or you just discovered baking, start here. Anyone can cook from this book, and everyone will be happy you did.
ON-DEMAND: Listen to Faith and Dorie talk about the recipes in this book  on The Faith Middleton Food Schmooze.
Get a taste of Dorie's Cookies:
Do-Almost-Anything Vanilla Cookie Dough
Christmas Spice Cookies
Almond Crackle Cookies
Chocolate Matzo Morsels
Chocolate Chunkers
Coco-Almond Thumbprints
—Robyn Doyon-Aitken Senior Producer