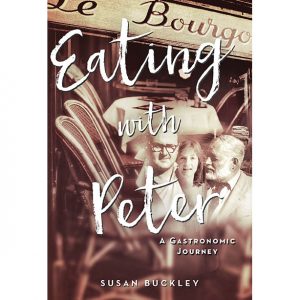 Susan Buckley led a fascinating life with the writer, photographer, and gourmand Peter Buckley. Her memoir, Eating with Peter, is a recounting of her experiences—chef by chef, dish by dish, restaurant by restaurant (some Michelin-star rated, some not)—from France, to Morocco, to the Caribbean, and back to New York.
What's it like to live and eat with someone larger than life in just about every corner of the world in a time when such a thing was possible?  Grab this beach read to find out. A renewed appreciation of the food and wine lovers in your life—the people you share your table with—is bound to be stirred up.
A Michelin-rated chef may not invite you to shop the market with him, but if you feel inspired to eat like the Buckleys, Susan sprinkled a few recipes into the memoir.
Get a taste:
Mary Hemingway's Seviche
Couscous Salad
Tucci's Tart Crust (load this up with your favorite glossy fruit!)