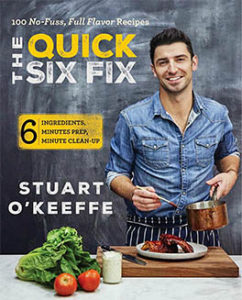 If you find long recipe ingredient lists daunting and twenty minutes of meal prep prohibitive this time of year, we've got a fix for you. Or rather, chef and cookbook author Stuart O'Keeffe has the fix. Stuart's new book, The Quick Six Fix includes 100 No-Fuss, Full-Flavor Recipes (subtitle). And here's where that fix comes in. Stuart's recipes are built around this philosophy: six key ingredients, six minutes prep, and six minutes cleanup. I admit it. It was that last one that had me wanting to run away with him even before I saw his beautiful Irish face and heard his beautiful Irish voice. Someone understands that I have better things to do after dinner than wash five pots and four dishes, and three salad bowls, and all those utensils (because one or two forks always fall on the floor), and multiple glasses. I have a family of four; why does it sometimes look like I hosted a dinner party in my kitchen on a regular ol' Tuesday night?
Listen to Stuart describe the recipes below as well as his Asian burger on The Faith Middleton Food Schmooze®.
To be clear, the recipes don't take six minutes to cook; that would be insane. It's the prep and cleanup that stick to the six-minute marker. There are more than six ingredients in the recipes, too, but there are always six KEY ingredients. Those are often the fresh items you may have to shop for. The rest of the ingredients are pantry and fridge staples (butter, eggs, olive oil, spices). All the recipes in the book are built around pantry staples and readily available ingredients. It's a book for busy cooks, after all.
We're walking the line between summer and fall right now, but you'd be crazy to wait for cooler weather to make these. They're too good and bread pudding has no season, friends. Chris Prosperi made Stuart's pork tenderloin and couldn't believe so little effort produced such a satisfying dish.
Stuart's Irish Yankee Mac and Cheese
Mustard-Crusted Pork Tenderloin with Apple Cabbage Slaw
Black and White (Chocolate) Croissant Bread Pudding
— Robyn Doyon-Aitken
Senior Producer