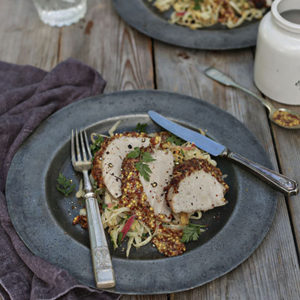 During Easter time in Ireland, I love to whip up this easy dish for my family. My mom always has three other types of meat in the oven, usually a duck, a goose, and a turkey. Sometimes beef, too. So trying to find the space to make this meat ends up in an annual argument. Every. Single. Time. Just a snippet of Easter with the O'Keeffes.
From Quick Six Fix: 100 No-Fuss, Full-Flavor Recipes by © 2016 by Stuart O'Keeffe with Kathleen Squires. Published by William Morrow, An Imprint of HarperCollins Publishers. Photo by Joanne Murphy.
Listen to Stuart describe this recipe on The Faith Middleton Food Schmooze®.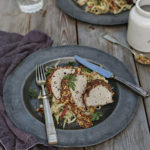 Servings

Prep Time

4

-6 people

6

minutes
Servings

Prep Time

4

-6 people

6

minutes
Servings

Prep Time

4

-6 people

6

minutes

Servings

Prep Time

4

-6 people

6

minutes
Pat pork dry and season well with salt and pepper. In a bowl, whisk mustard and olive oil together. Using your hands, rub mixture all over pork tenderloin. Let meat sit until it comes to room temperature, at least 20 to 30 minutes.

Place pork on a wire rack on a rimmed 36 x 18-inch baking sheet lined with foil. Place in the oven for 15 minutes. Reduce heat to 350˚F. and cook for another 10 minutes or until meat reaches an internal temperature of 145 degrees on a meat thermometer. Remove from oven, set aside, and cover with aluminum foil.

In a skillet, heat butter, vinegar, and sugar over low heat until the sugar is dissolved. Then turn up the heat to medium-high, add the cabbage and apple, and cook until the cabbage has wilted somewhat, about 10 minutes. Stir in chopped parsley.

STOP! AS CABBAGE AND APPLE COOK, WIPE DOWN BAKING SHEET, WIRE RACK, AND BOWL.

Remove foil from pork and slice.

Spread cabbage on a platter, top with pork slices, and serve.
SIDE DISH SUGGESTION: Toasted Almond Couscous