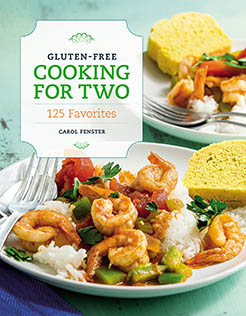 God bless anyone who takes the guesswork out of scaling recipes down. Carol Fenster's Gluten-Free Cooking for Two is a gift for all those gluten-free cooks and eaters who need perfectly proportioned meals for two. The fact that they're delicious family favorites EVERYONE will love—huge bonus.
ON-DEMAND: Listen to Faith and Carol discuss the recipes in this book.
Get a taste of Gluten-Free Cooking for Two
Asparagus Soup (Carol's tip: if you use a store-bought broth, always check the label. Some broths and stocks contain wheat).
Layered Bean Tortilla Casserole (We ate this and loved it!)
Carrot Cake Cupcakes (These need to be on every Easter buffet table).
— Robyn Doyon-Aitken
Senior Producer