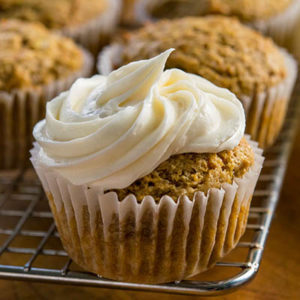 Most carrot cakes are huge — way too much for small households. But there's no reason you can't enjoy carrot cake — one of America's favorite flavors — in cupcake form. Yes, there are lots of ingredients, but that's what makes carrot cake so yummy. By the way, this recipe makes six cupcakes — more than most recipes in the book — because otherwise you'd be measuring extremely small amounts of ingredients and that gets tedious. Freeze the extras or invite friends over for dessert.
Nutritional info: (Per serving with Cream Cheese Frosting): 340 calories; 3g protein; 12g total fat; 2g fiber; 56g carbohydrates; 37mg cholesterol; 181mg sodium
ON-DEMAND: Listen to Faith and Carol talk about this recipe, as well as others from Carol's book.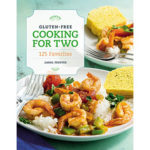 Text excerpted from GLUTEN-FREE COOKING FOR TWO © 2017 by Carol Fenster. Reproduced by permission of Houghton Mifflin Harcourt. All rights reserved. Image © The Savory Palate.

Servings:
cupcakes or one 6-1/2 to 7-inch cake
Place a rack in the middle of the oven. Preheat the oven to 325°F. Generously grease a 6-cup standard nonstick muffin pan (gray, not black) or line with paper liners. Or, generously grease a 6-1/2- to 7-inch nonstick springform pan (gray, not black) and line with parchment paper, then grease the parchment.

Make the batter: In a medium bowl, whisk the flour blend, granulated sugar, brown sugar, cinnamon, xanthan gum, baking soda, and salt until well blended.

In a medium mixing bowl, with an electric mixer on low speed, beat the egg, oil, and the 2 tablespoons pineapple juice until smooth. Gradually beat in the flour mixture just until no flour streaks are visible. Stir in the pineapple, carrots, coconut, and 1 tablespoon of the chopped walnuts until completely blended. Divide the batter evenly among the muffin cups or spread evenly in the springform pan.

Bake the cupcakes for 25 to 30 minutes or the cake for 30 to 40 minutes, until a toothpick inserted into the center comes out clean. Cool in the pan on a wire rack for 10 minutes.

Remove the cupcakes from the pan and cool completely on the wire rack. For the cake, run a sharp knife around the edges to loosen the cake. Remove the outer rim. Cool the cake completely on the wire rack. Gently run a knife between the pan bottom and cake to loosen. Invert onto a serving plate and remove the parchment paper. Frost with the cream cheese frosting or other favorite frosting. Sprinkle with the remaining walnuts. Refrigerate leftovers.
What to do with the leftover pineapple: Add the leftover pineapple in a smoothie or use it in a Sweet-and-Sour Pork recipe.