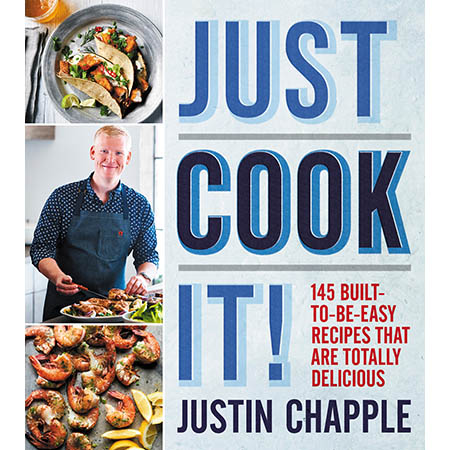 Home cooks, Justin Chapple is a man after our own hearts. A home cook's cook, Justin simplifies recipes for the real world—for us! In his latest cookbook, Just Cook It! Justin includes more than 100 recipes you'll want to make over and over again. Faith is cooking her way through it all summer.
• ON-DEMAND: Listen to Faith's fun conversation with Justin on The Faith Middleton Food Schmooze®. •
We especially loved his recipes for Roasted Carrot & Avocado Panzanella and Classic Meatloaf Sandwiches with Tomato Jam (we ate this!). And his Chocolate-Peanut Pie? Oh, boy. A simple ganache takes the anxiety out of custard pie-making and walks you through a 2-ingredient filling. We thought you'd be on board.
He may have a fancy French culinary background—and he is the culinary director at Food & Wine—but make no mistake, Justin Chapple is here for you. Average you. You: cooking for a family or a significant other. You: a busy food lover. You: Person who revels in the joy of cooking.
Simple, streamlined recipes loaded with flavor (and sometimes, whimsy) inspire, and Justin's encouraging, engaging spirit is evident on every page. If you forgot that cooking is supposed to be fun, jump on the recipes below and remind yourself why we (all of us home cooks) do what we do.
Roasted Carrot & Avocado Panzanella
Classic Meatloaf Sandwiches with Tomato Jam
Chocolate-Peanut Pie