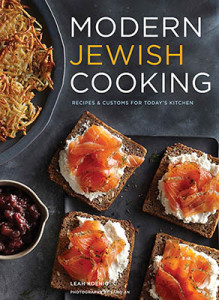 Leah Koenig's Modern Jewish Cooking spoke to us. Not just because everybody's Jewish on Passover and Rosh Hashanah, and all the other delicious celebratory (or reflective) Jewish holidays, but because while Leah is firmly rooted in tradition, she puts a contemporary spin on the classics. We love that. Every recipe is one that honors its past but leaves room for experimentation and reinterpretation.
Are there blintzes? Oh, yes. But not run-of-the-mill blintzes. Leah's indulgent blintzes include fragrant orange zest in the sweet cheese filling. Matzo Ball Soup?  Of course. Her matzo ball recipe is familiar, yet entirely fresh (especially her jalapeño-shallot variation). And how about something hearty and satisfying for dinner during Passover week? Meet Spinach-Matzo Lasagna. (We're always looking for new ways to use up our matzo after we've made all the matzo candy we can eat). And speaking of Passover sweets, Leah includes a recipe inspired by her mother's classic meringues. To bring her cookies into 2015, Leah dips her's in chocolate and finely chopped almonds. They're perfect. Perfect for ending your seder meal, or any meal, really, on a sweet note.
Listen: Leah was a guest on The Food Schmooze® in 2016. Listen to the episode on-demand now and subscribe to our podcast and never miss a drop of pleasure.
—Robyn Doyon-Aitken
Senior Producer