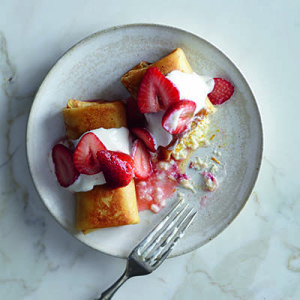 Cheese blintzes are a special indulgence. It's not often that we have the opportunity to top a rich, fried, cheese-filled pastry with sour cream and feel like we are doing exactly the right thing. Traditionally served on Shavuot, blintzes were also pop­ular at the many dairy restaurants that once populated the Lower East Side. According to New York legend, cheese blintzes were the favorite food of infamous Jewish mobsters Bugsy Siegel and Meyer Lansky, who were both regulars at the now-closed kosher dairy restaurant Ratner's.
Reprinted with permission from Modern Jewish Cooking, ©2015 by Leah Koenig, Photos by ©2015 Sang An. Published by Chronicle Books, LLC.

Make the blintz batter: Combine the milk, eggs, granulated sugar, flour, vanilla, and salt in a blender and blend until smooth, scraping down the sides as necessary. Let the batter rest for at least 30 minutes to let the gluten relax, or cover and refrigerate overnight.

Meanwhile, make the filling: Stir together the ricotta, confectioners' sugar, and orange zest in a small bowl. Cover and refrigerate for up to 1 day.

Rip eight large squares of parchment paper and set aside. Melt 1 tsp butter until foaming in an 8-in/20-cm nonstick skillet set over medium heat. Once hot, pour a little less than 1/3 cup/80 ml of the batter into the pan; immediately pick up the pan and tilt it in all directions to coat the bottom evenly with a thin layer of batter. Cook until the bottom is golden and the center is just dry, about 1 minute. (Do not flip the blintz wrapper.) Remove the wrapper with a spatula and place it on a piece of parchment paper. Continue making the wrappers with the remaining batter, stacking them in between squares of parchment as you go.

Spoon about 2 Tbsp of the filling onto the lower third of a wrapper, leaving a 1-in/2.5-cm uncovered border at the bottom. Fold that uncovered border up over the filling, then fold in each side toward the center. Roll the blintz up and away from you, tucking the filling inside a neat package. Repeat with the remaining wrappers and filling, setting the blintzes on a plate as you go.

Melt about 1 Tbsp butter until foaming in a nonstick pan set over medium heat. Working in batches, place the blintzes, seam-side down, in the pan and cook, turning once, until golden on both sides, 1 to 2 minutes per side. Transfer to a platter and serve hot, topped with sour cream and sliced strawberries.