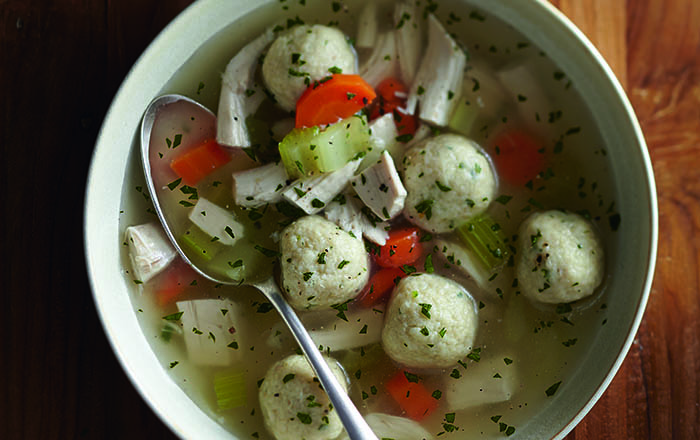 I have never met a matzo ball I didn't like. Floater, sinker, big, small, delicate, or dense—I will happily eat them all.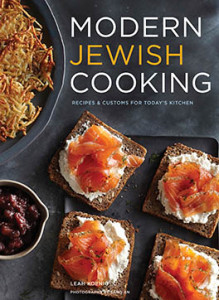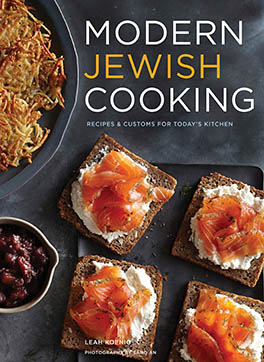 Reprinted with permission from Modern Jewish Cooking, ©2015 by Leah Koenig, Photos by ©2015 Sang An. Published by Chronicle Books, LLC.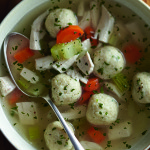 These traditional beauties skew on the tender and fluffy side, thanks to the glug of seltzer lightening up the batter. A little chopped parsley adds color and a hint of freshness. Don't have matzo meal on hand? Save an extra trip to the grocery store by making your own. Break up a few matzo sheets and pulse them in the food processor until they take on a bread crumb–like consistency.
| | | |
| --- | --- | --- |
| | | These traditional beauties skew on the tender and fluffy side, thanks to the glug of seltzer lightening up the batter. A little chopped parsley adds color and a hint of freshness. Don't have matzo meal on hand? Save an extra trip to the grocery store by making your own. Break up a few matzo sheets and pulse them in the food processor until they take on a bread crumb–like consistency. |
Stir together the eggs, vegetable oil, salt, matzo meal, parsley, and seltzer in a large bowl. Cover and refrigerate for 30 minutes

Meanwhile, bring a large pot of generously salted water to a boil. Turn the heat to medium-low and keep at a simmer while you form the matzo balls.

Moisten your hands with water. Scoop out a rounded 1 Tbsp of matzo ball batter and roll it into a 1-in/2.5-cm ball. Drop into the simmering water, and repeat with the remaining batter. You should end up with about 15 matzo balls. Cover the pot and simmer until the matzo balls are tender and puffed, 30 to 35 minutes. (If you cut one in half, it should be pale in color throughout.)

Remove the matzo balls from the pot with a slotted spoon, divide between bowls, and ladle soup over the top. (Matzo balls can be cooled to room temperature, then stored, covered, in the refrigerator for up to 1 day. Rewarm them in your soup before serving.)