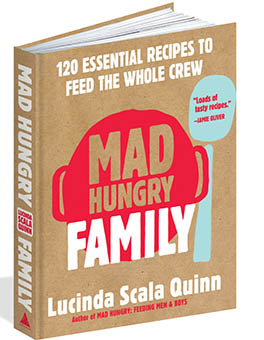 So many cookbooks these days feature fresh-faced bloggers smiling at their food and listing their camera specs. Don't get me wrong—I love food blogs and bloggers. They have their place in the food world. God knows so much of what they do is beautiful (ya know, those cameras!). But what speaks to me right now is real people cooking for their real families in the real world. When I'm with Lucinda Scala Quinn's Mad Hungry Family, I don't feel inadequate. Nobody's judging me for having canned peaches in my pantry. Nobody's sending me to three specialty markets for spices my kids won't appreciate (they think ketchup is a spice). Nobody's acting like I have all the time in the world.
• ON-DEMAND: Listen to Faith and Lucinda discuss the recipes in Mad Hungry Family. •
If you're a busy parent who loves food, you'll find comradery here. Comradery, and a heck of a lot of recipes you can slip into your repertoire AND pull out for special occasions.
Whatever your traditions are, you'll want to adapt something from Lucinda's "Holiday Meal Circuit" chapter. We're fans of her "Straight-Talk Turkey," a bird she says you don't have to babysit. We also loved her Buttery Spiced Poached Pears, a dish Faith says she and her family would like after they come in from their post-Thanksgiving-dinner walk. Imagine it with something sparkling.
Chris Prosperi treated us to Lucinda's Trout with Almonds before the show. Lucinda considers trout a gateway fish for all those (mostly) little ones out there who refuse to eat anything that swims. The trout is cooked in browned butter, people. Even picky non-seafood eaters can deal with a most-mild fish bathed in butter. Those beautiful almonds help, too.
Mad Hungry Family is loaded with tips and lessons home cooks of all skill levels will appreciate (you'll find them in the sidebars called "Lifesaver Lessons" and "Worth Knowing"). The greatest lesson in the book, though, is that your family is worth knowing. You'll be surprised what you might learn about them gathered 'round the dinner table. Decide to cook together and make meals a priority. Start here.
— Robyn Doyon-Aitken
Senior Producer