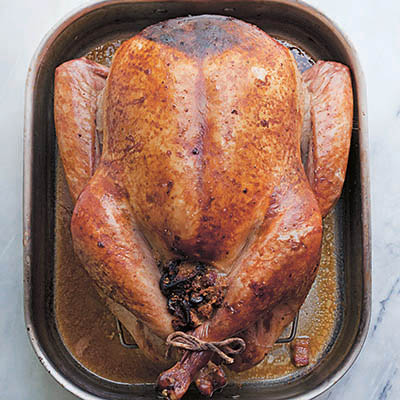 No brining or babysitting is needed for this recipe — just a good bird, started from room temperature, cooked in a calibrated oven (meaning you know the exact inside temperature — ask at the hardware store for the $4 oven thermometer that hooks onto a rack) for the amount of time needed for your size bird (see below), and finished when an instant-read thermometer reaches 165°F. This turkey can be cooked stuffed with Fig and Pancetta Stuffing or Basic Bread Stuffing. Or it does not have to be stuffed at all.
ON-DEMAND: Listen to Faith and Lucinda talk about this recipe—as well as many others—and learn more about the book, Mad Hungry Family.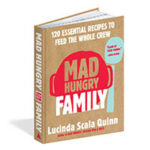 Excerpted from Mad Hungry Family by Lucinda Scala Quinn (Artisan Books). Copyright © 2016. Photograph by Jonathan Lovekin.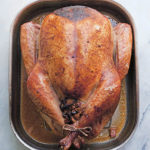 Servings
10 - 12 people (with leftovers)
Servings

10 - 12 people (with leftovers)
Preheat the oven to 425°F with the rack in the lower third of the oven. Season the cavity of the turkey with 1 tablespoon of the salt and ½ teaspoon of the pepper. Stuff the cavity with stuffing or the orange, lemon, onion, garlic, and herbs. Tie the legs with twine and transfer the turkey to a rack set inside a roasting pan. Rub the skin with the oil and season with the remaining 1 tablespoon salt and ½ teaspoon pepper.

Pour 2 cups of the broth into the roasting pan and transfer to the oven. Roast the turkey for 30 minutes, then reduce the oven temperature to 350°F. After the first hour of roasting, baste the turkey every 30 minutes. (Tent the turkey with foil if the skin becomes a deep golden brown before the turkey is cooked.) Roast until a meat thermometer inserted into the thigh joint registers 160°F. (If roasting a 12-pound bird, check the temperature after 1½ hours. A 14-pounder should take 2½ to 3 hours; a 20-pounder 4½ to 5. A stuffed bird will be on the longer side.) Remove the turkey from the oven and transfer to a carving board. Let the turkey rest for at least 20 minutes.

Meanwhile, place the roasting pan on the stovetop over medium-high heat. Add the remaining broth to the pan drippings and bring to a simmer. Combine the milk and flour in a jar with a tight-fitting lid and shake vigorously to combine. Whisk the milk mixture into the gravy and simmer, whisking continuously, until the gravy thickens slightly, about 2 minutes.

Carve the turkey and serve with gravy.