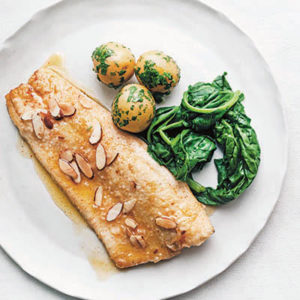 The mellowness of trout combined with this simple French technique make this a great entry-level fish dish for neophyte fish-eaters. The fillets cook quickly, and the browned butter imparts a mild, almost nutty flavor, which is why I like to pair the trout with toasted almonds. You can swap in any similarly thin, delicate fillet, such as sole, catfish, fluke, or black bass, and use pecans, hazelnuts, or cashews instead of almonds. Or omit the nuts if you want, and top each fillet with a wedge of lemon as an alternative. Serve with Small Steamed New Potatoes and Barely Touched Spinach—one of my favorite dainty meals (by my standards, anyhow).
ON-DEMAND: Listen to Faith and Lucinda talk about this recipe—as well as many others—and learn more about the book, Mad Hungry Family.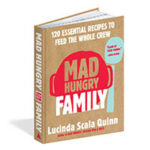 Excerpted from Mad Hungry Family by Lucinda Scala Quinn (Artisan Books). Copyright © 2016. Photograph by Jonathan Lovekin.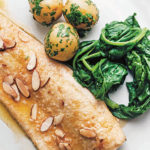 Toast the almonds and set aside. Combine the flour, salt, and cayenne pepper in a flat dish. Pour the milk into another dish. Place the trout fillets in the milk and let sit for a couple of minutes.

Heat a large sauté pan over medium heat. Swirl in the oil and add the butter. Dredge both sides of the fillets in the flour mixture and add to the pan. Raise the heat, add the garlic cloves to the pan, and swirl them around. Flip the trout after 2 minutes and remove the garlic (you don't want it to brown). Cook until the fish is cooked through and lightly golden brown, 1 to 2 minutes more. Scatter the toasted almonds over the fish. Serve immediately.