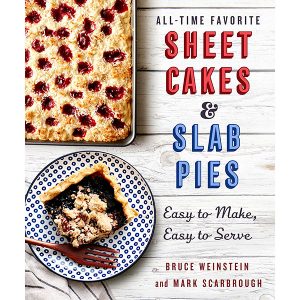 Okay, party people, start your ovens. Connecticut authors Bruce Weinstein and Mark Scarbrough are about to make your party-dessert-making a whole lot easier (and more fun) with their latest book, All-Time Favorite Sheet Cakes & Slab Pies. We were lucky enough to have Bruce in the studio—along with two big sheet cakes we went wild over and devoured.
• ON-DEMAND: Listen to Faith and the gang talk about many of the recipes in this book with Bruce Weinstein on The Faith Middleton Food Schmooze®. •
Here's the appeal: first, these 100 + recipes feed a crowd. We mean a legit crowd: a minimum of 16 people. On the high end, the recipes can serve 24, 36, or make two cakes, cut small pieces, and you can feed close to 100 people. And not just feed them, but feed them well. Faith called Bruce and Mark's Gluten-Free Coffee Cake with Almond-Butter Crunch the best coffee cake she's had. It was nutty and wonderful. Buckwheat is the star. I went home with about 10 pieces of the Chocolate-Chocolate Chip Cheesecake and my kids asked if Bruce and Mark could be their uncles. Don't tell my brother.
We love what Bruce pointed out as a major advantage to a 13 x 18-inch cake: you'll always have the perfect ratio of cake to frosting or buttercream. (I know, now you want the pair to be your uncles).
And pie crusts are suddenly more simple, too. Even baking-averse Chris Prosperi was psyched about making his parents a slab pie for the next family party.
We've got our eye on the Lemon Ricotta Cake with Sweetened Whipped Cream, too.  It's a cross between cheesecake and pudding pie. It's light, bright, and has Easter written all over it.
Get a taste of this book (and have a party!):
Chocolate-Chocolate Chip Cheesecake
Gluten-Free Coffee Cake with Almond-Butter Crunch Topping
Lemon Ricotta Cake with Sweetened Whipped Cream
— Robyn Doyon-Aitken
senior producer