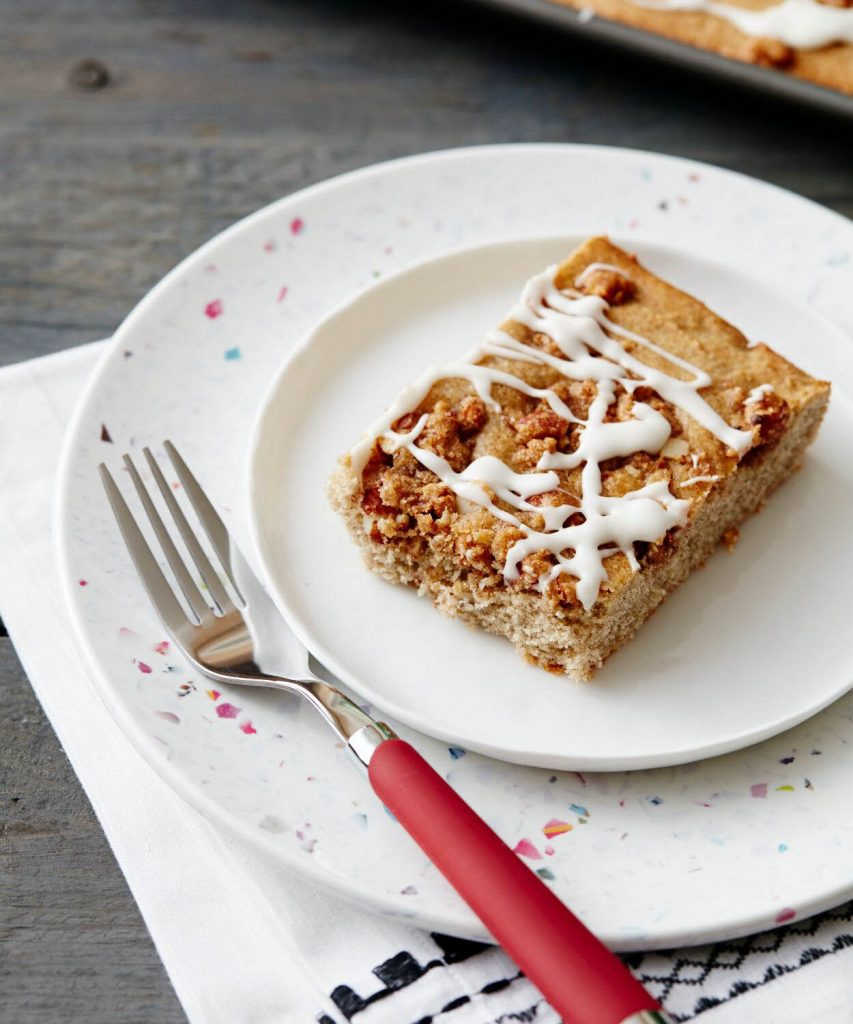 There's no reason to feel deprived if you're doing without gluten—or if you know someone who is. In fact, there's no reason to be gluten-intolerant to make this rich coffee cake with a sturdy, toothy texture and intense, surprisingly "grainy" flavor. It's also got both a buttery almond topping and a tart lemon glaze over that for the joy of sheer excess. Even if you don't have dietary concerns, just make it and don't tell anyone it's gluten-free.
— Bruce Weinstein and Mark Scarbrough
• ON-DEMAND: Listen to Faith and the gang talk to Bruce about this recipe, as well as many other party-worthy dessert recipes on The Faith Middleton Food Schmooze®. •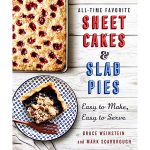 Excerpted from All-Time Favorite Sheet Cakes & Slab Pies by Bruce Weinstein and Mark Scarbrough. Published by St. Martin's Press Copyright © 2017 by Bruce Weinstein and Mark Scarbrough. Photo © 2017 by Eric Medsker.

Mix the almonds, almond butter, brown sugar, melted butter, cream, and cinnamon in a medium bowl until uniform. Set aside.

Position the rack in the center of the oven. Heat the oven to 350°F. Generously butter the inside of a 13 x 18-inch lipped sheet pan.

Whisk the buckwheat flour, rice flour, oat flour, cornstarch, baking powder, and salt in a second medium bowl until uniform.

Using a handheld electric mixer or a stand mixer with the paddle attachment, beat the butter and sugar in a large bowl at medium speed until very creamy, even fluffy, about 6 minutes.

Scrape down the inside of the bowl, then beat in the eggs one at a time. Beat in the sour cream and vanilla until smooth.

Turn off the mixer, add the buckwheat flour mixture, and beat at low speed until well combined. Using an offset spatula, spread the thick batter evenly into the prepared pan. Clean and dry your hands. Squeeze the almond mixture into cohesive, oblong lumps and crumble these over the top of the batter as little stones and pebbles.

Bake until puffed and set, and until a toothpick inserted into the center of the cake comes out clean, about 30 minutes. Cool in the pan on a wire rack to room temperature, about 1-1/2 hours.

To make the glaze: Stir the butter and lemon juice in a small bowl, then add 1 cup of the confectioners' sugar and stir well, adding more confectioners' sugar in 2-tablespoon increments, to form a loose, wet glaze. Drizzle the glaze from the tines of a flatware fork all over the cooled cake, making thicker and thinner ribbons across the top.
TESTER NOTES
Make sure the nonwheat flours and the baking powder are certifed gluten-free, if this is a concern to you and yours. Buckwheat flour can go rancid quickly. Store it in a tightly sealed container in the freezer for up to four months.