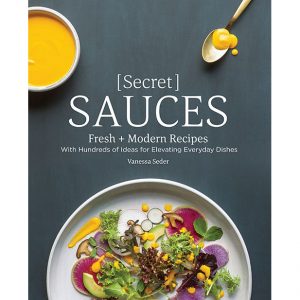 Sauces can be transformative; they can make a good thing great. They can also hide a multitude of cooking sins! What we're getting at here is that sauces are SO WORTH the effort. And, you don't have to go to culinary school to learn how to make a delicious sauce. Cookbook author Vanessa Seder did for you!
Vanessa's new book, Secret Sauces, is loaded with tips, tricks, and recipes for elevating your everyday cooking with a fantastic sauce. She explains the fancy origins of the classic sauce (whatever it might be) and offers her own modern twist, making the sauce approachable and oh-so-do-able for us home cooks. Date night meets weeknight; that's what I say.
Each sauce recipe comes with a corresponding recipe where the sauce can shine, plus "extra credit" options as simple as spreading the sauce on flatbread or using it as part of a cheese plate, so you'll never run out of ideas for using the sauces you make. Here's where you must take Chris Prosperi's advice: make a double batch of the sauce recipe (whichever ones you make). You'll likely run out of sauce before you run out of delicious ways to use it.
Secrets Revealed: Get a taste of the recipes in this book
Beet and Polenta Cakes with Faux Aioli
Seared Sea Scallops with Miso and Lime Dressing
Pan-Roasted Pork Tenderloin with Fig and Balsamic Agrodolce
— Robyn Doyon-Aitken
senior producer