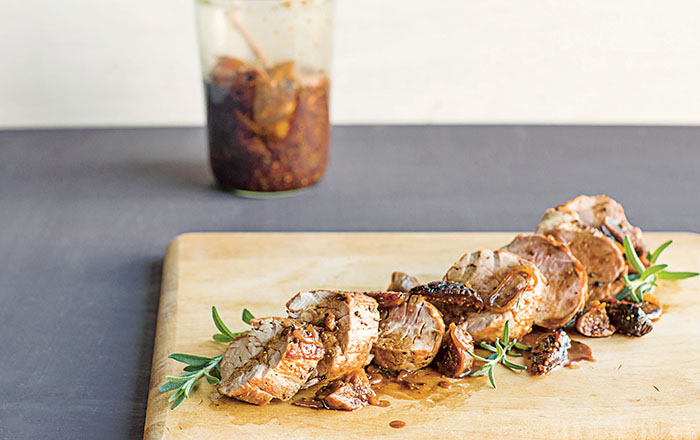 Chris Prosperi made this pork tenderloin for us as our pre-show meal, and it was outstanding. We wholeheartedly recommend you try it for a weeknight dinner or the next time guests come for dinner.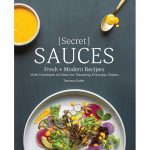 Drizzle Vanessa Seder's Fig and Balsamic Agrodolce over the roasted pork tenderloin.
• ON-DEMAND: Hear the gang rave about this recipe and listen to our entire conversation with Vanessa Seder on The Faith Middleton Food Schmooze®. •
Recipe excerpted from Secret Sauces by Vanessa Seder, published by Kyle Books. Photography by Stacey Cramp.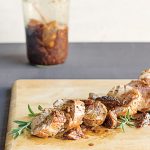 Preheat the oven to 400F. Heat a large cast-iron or ovenproof heavy-bottomed skillet over medium high heat. Season a room-temperature 1-1/4 pound pork tenderloin all over with salt and pepper. When the skillet is very hot, add 1 tablespoon olive oil and the pork and sear on all sides, about 6 minutes total.

Roast the pork in the skillet until a meat thermometer inserted into the center registers 140F. Transfer the pork to a cutting board to rest, covered loosely with foil, for about 10 minutes. Reserve the skillet.

Slice the pork against the grain, drizzle with the fig and balsamic agrodolce sauce, and garnish with more fresh rosemary leaves. Serve immediately or store the sauce refrigerated in an airtight container for up to 3 days. Bring to room temperature or rewarm slightly before using, taking care not to break the butter.