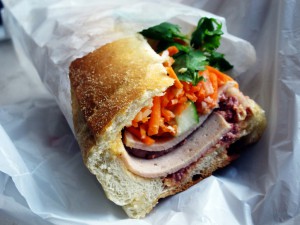 Picture the grinder, a sub, or the Cubano… they're sandwiches combining meat and vegetables with sauces. But there's one sandwich that is the rage coast-to-coast, the bánh mì, (pronounced bonn-me) which combines thinly sliced pickled and fresh vegetables with sauce and your favorite protein, served on a soft baguette. These are crazy good, especially the recipes from The Banh Mi Handbook by Andrea Nguyen.
We used crispy pork belly for our sandwich, and piled on pickled carrots, shallots, and daikon, though you could use radishes instead of daikon if you'd like. The vegetables "flash-pickle" in just one hour, and the sauces couldn't be easier. You can have these gluten-free, or vegetarian, if that's your wheelhouse. Andrea's recipes showcase all versions, from the classic French-Vietnamese bánh mì using a slice of pâté, to innovative combinations.
One of the reasons you can taste the explosive flavor combination in these sandwiches is that once you cut your soft Italian loaf bread (ideal), you pull out most of the bread dough on both sides, leaving two soft shells. The shells are then stuffed with all the goodies. We especially like the pork roast bánh mì, though Chris Prosperi agreed to Faith's request for thin slices of crispy pork belly with a hoisin sauce and sliced jalapeños along with the pickled vegetables.
Connecticut has báhn mì chain restaurants, and some chefs are making delicious ones. Now you can make the real thing at home thanks to Vietnamese-American Andrea Nguyen.