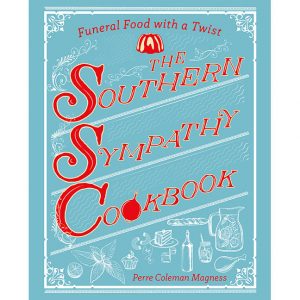 If you love Southern food and hospitality, The Runaway Spoon blogger Perre Coleman Magness's The Southern Sympathy Cookbook is one you'll treasure—first, for the recipes and second, for the laughs. Real-deal Southern classics fill these pages. Think: Buttermilk Bacon Stuffed Eggs, Peach Coffee Cake, all manner of biscuits, pickles, spreads, Pimento Cheese Macaroni Salad, Buttermilk Macaroni and Cheese, Coconut Cake, Jambalaya Casserole, Fried Chicken Bourbon Brown Butter Pecan Pie, and Kentucky Bourbon Balls.
• ON-DEMAND: Listen to Faith and the gang talk to Perre about the recipes in The Southern Sympathy Cookbook. •
Interspersed with the recipes, you'll find excerpts of actual obituaries that'll have you howling. The good kind of howling. Big belly-laugh obituaries. Some, more parting shot than remembrance, will remind you that life is hilarious.
The Southern Sympathy Cookbook is a book Faith will keep in her personal collection. And she won't wait for an obituary to cook from it. Neither should you. Funeral food is comfort food—indeed, especially here—it's party food.
— Robyn Doyon-Aitken
senior producer