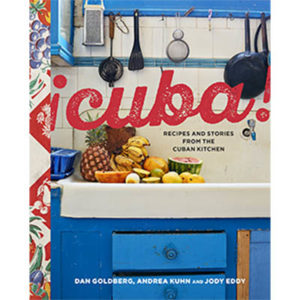 It was the Mojito Cake that got us first. Come on! A Mojito cake? Who doesn't love that idea? We love anything that reimagines our favorite cocktails as (heavy on the citrus) desserts. That's just the most fun thing. Yes, we're turning our ovens on in July for that.
And we're loving ¡Cuba! Recipes and Stories From the Cuban Kitchen, the new book by award winning photographer Dan Goldberg, Andrea Kuhn, and Jody Eddy.
• ON-DEMAND: Listen to Faith and Dan Goldberg discuss the recipes in ¡Cuba! •
Cuba is a place of endless intrigue. There's a reason Papa Hemingway wrote (and drank) there. There's no end to its beauty. And Dan Goldberg (our guest, lucky us) captured it with reverent acumen in his photographs. Imagine: being welcomed into the homes of regular people and they cook for you. Authentic dishes. Family recipes. Real-deal Cuban food. Simple. Good. Flavorful.
¡Cuba! is the culmination of that experience, and lucky for us, we get a taste of it. We don't know how open Cuba will be—or for how long—but we do know we can savor a bit of its essence through the recipes here, inspired by the authors' travels. It's not as good as being there. But it's something. And, it'll do for now.
Get a taste of this book:
Vedado Lobster Rolls
Café Cubano Batido (a frozen, frothy rum cocktail)
Caribbean Black Bean Burgers with Pineapple Avocado Salsa
Mojito Cake with Rum-Infused Whipped Cream