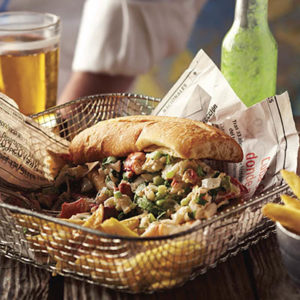 Lobster, especially the spiny lobster, is a black market favorite in Cuba, where it is consumed with a gusto reserved for life's rare luxuries. This lobster roll is a way to celebrate this beloved crustacean in a way that doesn't adulterate it too much, infusing its flesh with the flavor of the ocean. Add a little more mayonnaise if you prefer it creamy, and be sure to squeeze in a little fresh lime juice to add a summertime zing.
— Dan Goldberg, Andrea Kuhn, and Jody Eddy
• ON-DEMAND: Listen to Faith and Dan discuss this recipe on the Faith Middleton Food Schmooze®. •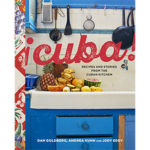 Reprinted with permission from ¡Cuba!, by Dan Goldberg and Andrea Kuhn, copyright ©2016, published by Ten Speed Press, an imprint of Penguin Random House LLC. Photography copyright ©2016 by Dan Goldberg.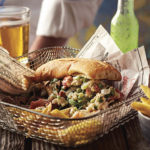 Bring a large pot of salted water to a rolling boil and add the lobsters. Cover the pot and cook for 8 to 12 minutes, until the lobsters are red and cooked through. (Because each lobster is cooking independently, base your cooking time on the size of each lobster, not their combined weight.) The lobsters should cook for about 8 minutes per pound, so adjust the time up or down based on the size of your lobsters. Use tongs to remove the lobsters from the pot and set them aside to cool.

Crack the shells using a lobster cracker or the back edge of a chef's knife and pick out the meat. Chop the meat into bite-size chunks. Place the lobster in a medium bowl and add the mayo, cilantro, green onions, celery, and lime juice. Taste and add salt to taste. Place the lobster mixture in the refrigerator to chill for at least 20 minutes.

Slice each roll in half lengthwise, stopping before slicing all the way through, so the rolls hinge open. Spread the cut surfaces with the butter. Heat a large skillet over medium heat and cook each roll, buttered side down, until browned and toasty. Stuff the rolls with the lobster mixture and serve immediately.