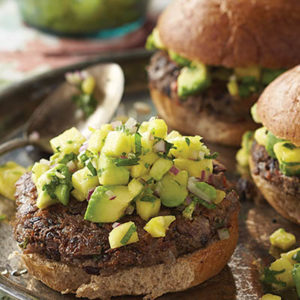 The trick to these black bean burgers is to ensure they stay together during the frying process. This recipe yields a puree that is slightly dry but wet enough to maintain its structure as it cooks. If it looks too wet, add a few more beans until the combination holds together but is not too sticky, since this will result in a gloppy mess in the pan. The cornmeal coating provides additional assurance that your burgers will emerge in one piece. Other beans, such as azuki red, can be substituted for the black beans. The addition of Pineapple Avocado Salsa makes this recipe just right for a hot summer day, and perfectly paired with a pitcher of mojitos.
— Dan Goldberg, Andrea Kuhn, and Jody Eddy
• ON-DEMAND: Listen to Faith and the gang rave about these burgers during their conversation with Dan Goldberg. •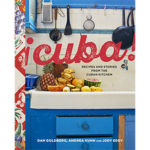 Reprinted with permission from ¡Cuba!, by Dan Goldberg and Andrea Kuhn, copyright ©2016, published by Ten Speed Press, an imprint of Penguin Random House LLC. Photography copyright ©2016 by Dan Goldberg.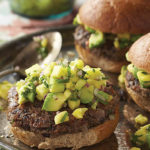 Combine 2 cups of the beans with the pepper, onion, garlic, cilantro, cumin, and salt in a large bowl. Puree the remaining 1/2 cup of beans with the egg white in a food processor. Mix the puree into the other ingredients, vigorously mashing it all together (it's very satisfying to use your hands for this step). Sprinkle the cornmeal over the black bean mixture and work it in. If it seems dry, add a little water, 1 tablespoon at a time.

Shape the mixture into 6 patties. Heat the oil in a large nonstick skillet until shimmering. Carefully add the patties. If you cannot fit all of the patties in the pan at once, work in batches. Cook the patties until they are browned and crusty on the bottom, 5 to 6 minutes. Flip and cook the other side.

Serve each patty on a hamburger bun, topped with Pineapple Avocado Salsa.