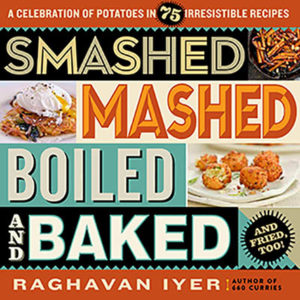 Often described as humble, the potato, to me anyway, is a tuber worthy of celebration. What can't it do? Raghavan Iyer's fun new cookbook, Smashed, Mashed, Boiled and Baked—And Fried, Too! illustrates the point with 75 recipes where the anything-but-humble potato makes the dish.
Iyer, a James Beard Award winner and expert in Asian cooking (he's the author of 660 Curries), admits to an unabashed potato addiction and his passion for potatoes is infectious. But, it's not just a love of potatoes that inspired these recipes, it's a love of flavor. Potato starters, mains, and sides from every corner of the globe—there's even a meat-potato pie from Canada!—grace the pages of this book. Plus Pierogies, Chiles Rellenos, Hasselback Potatoes with Cardamom Butter, Morroccan Potato Stew, Persian-Style Potatoes and Eggs, Dukkah-Rubbed Potatoes, Sweet Potato Samosas, Potato Moussaka, and of course Ultimate French Fries. Those'll give you a good idea of the cuisines represented here.
Beyond cooking, you'll learn an awful lot about potatoes in these pages, too. Did you know you can test the starchiness of a potato by dunking it in salt water? If it sinks, it's starchy. If it floats, it's waxy. Starchy potatoes are best for fries, by the way. So. . .
Considering lots of us eat potatoes—in one form or another—several times a week, Smashed, Mashed, Boiled and Baked—And Fried, Too! is a must-flip-through (for fun) and a must-cook-through (for potato addicts like us).
Get a taste of this book:
Potato Leek Pie
Ultimate French Fries
Hasselback Potatoes with Cardamom Butter
Chocolate Sweet Potato Pound Cake