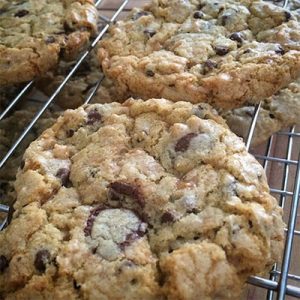 These cookies are VERY popular with our customers at the farmers market. People sometimes return in disbelief that they are really and truly gluten-free. Proof that gluten-free, when done right, doesn't have to be a sacrifice!
— Amanda Glover, Amanda Bakes
Photo: Courtesy of Amanda Glover
• ON-DEMAND: Listen to Faith and Amanda talk about this recipe and Amanda's Airstream bakery. •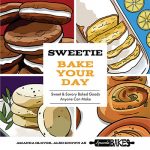 Excerpted from Sweetie Bake Your Day: Sweet & Savory Baked Goods Anyone Can Make by Amanda Glover. Published by Ingram Spark Publishing. Copyright © 2017 Sweetie LLC.

Preheat oven to 350℉. Line 3 baking sheets with parchment paper or lightly grease.

In a large bowl mix the sugar, brown sugar, melted butter, vanilla extract and almond extract. Add the eggs and the cold coffee, and stir to combine.

Next, add the oats, gluten free flour, baking soda, and salt to the bowl, stir gently and add the almonds, chocolate chips and toffee pieces. Continue stirring to completely combine all ingredients.

Roll tablespoon sized balls or use an ice cream scoop to make packed mounds of dough. Use your fingers to flatten and shape the mounds.

Bake for 10-12 minutes until the edges are browned and set.

Cool for 5 minutes on the tray then transfer to wire racks to finish cooling.

Store in an airtight container for several days, or freeze for up to 3 months.
Amanda's Gluten Free Flour Blend
Amanda's blend works perfectly with Bob's Red Mill package sizes. Most ingredients can be found in your local health food store, or can be ordered online.
6 pounds white rice flour
1 pound 8 ounces potato starch
1 pound 8 ounces brown rice flour
1 pound 6 ounces sorghum flour
1 pound coconut flour
1 pound oat flour (gluten free)
1 ounce xanthan gum powder
1/4 cup psyllium husk powder
In a medium sized plastic storage container, empty all bags of ingredients. Stir until well combined with gloved hands or wooden spoons. Portion into gallon plastic storage bags and freeze. Store open bags in a cool dry place.