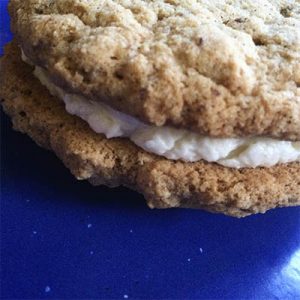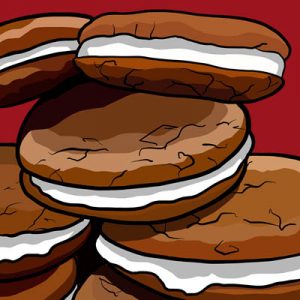 These cookies are the homemade version of Oatmeal Creme Pies. All the soft, chewy and creamy goodness—without the crinkly plastic wrapper!
— Amanda Glover, Amanda Bakes
• ON-DEMAND: Listen to Faith and Amanda talk about this recipe as well as several other cookies, bars, and cakes Amanda bakes out of her Airstream bakery. •
Photo (left): Courtesy of Amanda Glover. Recipe art (right): Copyright ©2017 Raheem Nelson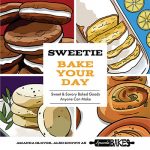 Excerpted from Sweetie Bake Your Day: Sweet & Savory Baked Goods Anyone Can Make by Amanda Glover. Published by Ingram Spark Publishing. Copyright © 2017 Sweetie LLC.

Servings:
sandwich cookies
Preheat the oven to 350℉. Butter two cookie sheets or line with parchment paper.

In a large mixing bowl, cream together the butter, sugar, and brown sugar until light and fluffy. Beat in the eggs one at a time until well combined. Mix in the water and the almond extract. To the bowl, add the flour, oats, baking soda, salt and cinnamon. Stir with a wooden spoon until a uniform dough is achieved. Scoop dough onto cookie sheets in heaping tablespoonfuls, or use an ice cream scoop, flattening slightly. Bake for 10-12 minutes or until cookies are golden brown. Cool for 5 minutes on the cookie sheet before transferring to a wire rack to continue cooling. While the cookies are cooling, prepare the cream filling.

Heat the butter in a saucepan until completely melted. Pour into a large bowl. Slowly add the powdered sugar and vanilla and blend until smooth. Stir in the heavy cream and mix until it is of spreading consistency.

Generously spoon or frosting on the flat side of half of the cookies. Top with the remaining halves. Eat immediately or store in the refrigerator for up to a week.