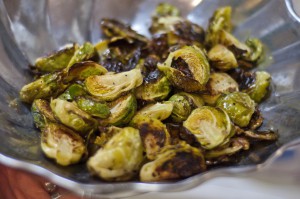 From Faith: A little chopping, a sheet pan and an oven are all you need to turn out this glorious taste treat for Thanksgiving or, in my case, for any occasion. Our show volunteer, Marian Roy, dropped this one on us and after tasting it, Chris Prosperi started making it for his customers at Metro Bis restaurant. None of us can believe how easy this is to do, and how good it is. Picture crispy bits of roasted Brussels Sprouts, shallots, garlic and, if you like, prosciutto, tossed into a roasting pan with sliced pears and olive oil. Serve it and watch it disappear, if it even makes it to the table!
Preheat oven to 400 degrees.

Halve each Brussels Sprout, slice your favorite pears, mince peeled garlic, chop peeled shallots, chop prosciutto (if using.) Set aside.

Pour 2 or 3 generous glugs of olive oil into the bottom of a roasting pan or baking dish. Toss in the chopped ingredients. Salt to taste. Stir to coat everything well with the oil. Roast for about 30 minutes, or until shallots are brown and crispy. Every oven is different so start checking after 20 minutes of cooking. Serve hot or at room temperature.