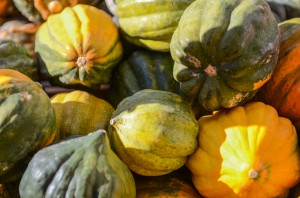 From Faith: This would be a crowd-pleaser at the Thanksgiving table, although you could serve it anytime and for any reason. My girlfriend Amy Gross thought of this combination after hearing us talk on the show about the glories of roasted acorn squash. In the market while shopping, Amy scanned the produce section for a minute, and said, "I see blood oranges over there, so let's use them for the squash with some maple syrup and nuts." I love this moment because it represents a way of letting your own instincts guide your cooking, instead of relying only on recipes.
Revved-up from the possibilities, we raced home with our groceries and started having fun, chopping, slicing, toasting and roasting. While eating, we both realized we didn't need the main course we'd made.

Preheat the oven at 400° F. While it comes to temperature, wash the squash, cut each in half, and remove the seeds. Rub the orange flesh with olive oil, sprinkle with a little salt and pepper, and place the halves cut-side up on a baking sheet or in a Pyrex dish. Cover the dish or pan with aluminum foil and bake for about an hour, checking it at 45 minutes.

When the squash is fork tender, remove it from the oven and discard the aluminum foil. Pour blood orange juice and a drizzle of maple syrup into the well of each half, and sprinkle with toasted chopped almonds. Continue baking uncovered for 10 to 15 minutes until the squash is soft. Serve just as it is, or remove the flesh from the skins and stir in a big bowl, adjusting seasonings to your taste.
You can use a regular orange, though the distinct and intense flavor of the blood orange will make it special. Buy several while they're in season, extract the juice and freeze it in an ice cube tray. Bag the frozen blood orange cubes for use another day in cocktails, morning protein shakes, yogurt, or other recipes.