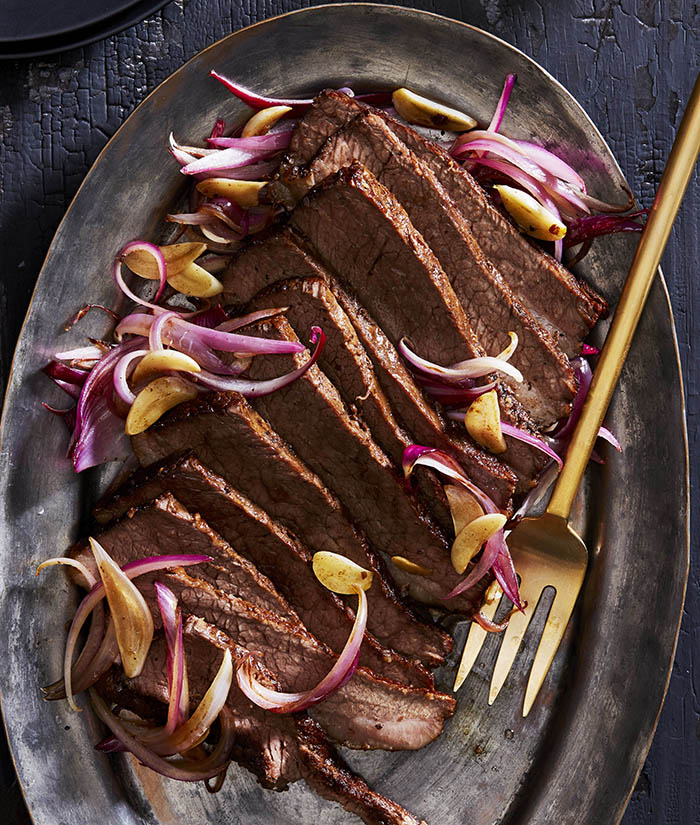 Braised brisket began as poverty cuisine—a method of low-and-slow cooking that was capable of transforming a cheap, tough cut of meat into something desirable. Over time, it has become one of the most iconic dishes of the Jewish American kitchen. It is a favorite for the festive meals on Rosh Hashanah, Sukkot, and Passover, and often served as a substantial main alongside potato latkes on Hanukkah. There are countless variations on the theme of brisket, ranging from sweet and tangy to savory and herby. This version adds brown sugar and balsamic vinegar to the braising liquid, resulting in deep flavor and caramelized edges. Like many braised meat dishes, brisket's flavor improves with time, so plan to make it a day or two before serving. To slice, find the grain (the thin lines that run in one direction along the brisket) and use a sharp knife to thinly slice perpendicular to those lines.
—Leah Koenig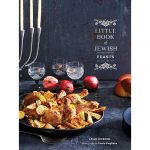 Reprinted from Little Book of Jewish Feasts by Leah Koenig with permission by Chronicle Books, 2018. Photo by Linda Pugliese.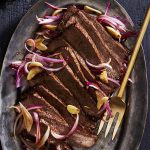 Preheat the oven to 325°F [165°C] and season both sides of the brisket with salt and pepper.

Heat 2 Tbsp of the oil in a Dutch oven or large sauté pan set over medium-high heat. Add the brisket and cook, turning once, until browned on both sides, 8 to 10 minutes total. If the brisket does not fit all at once, cut it in half and sear it in batches.

Remove the seared brisket from the pot and set aside. Add the remaining 1 Tbsp of oil followed by the onions, garlic, and bay leaves to the pot and cook, stirring often, until the onions soften and the mixture is fragrant, 5 to 10 minutes.

Meanwhile, whisk together the stock, balsamic vinegar, red wine vinegar, brown sugar, onion powder, garlic powder, and 1 tsp salt in a medium bowl until fully combined. Transfer the onion mixture to the bottom of a large roasting pan and layer the seared brisket on top. Pour the balsamic mixture over the top, cover tightly with aluminum foil, and transfer to the oven.

Cook the meat for 2 hours. Remove from the oven, uncover, and carefully flip the meat to the other side. Re-cover and continue cooking until the meat is fork‑tender, 2 to 2-1/2 hours more.

Remove from the oven and transfer the meat to a cutting board; drape loosely with aluminum foil and let rest for 10 to 15 minutes before slicing against the grain. Remove and discard the bay leaves. Use a slotted spoon to remove the onions and arrange around the brisket. Spoon your desired amount of pan juices over the brisket before serving.

Serve hot. Store leftovers, covered, in the fridge, for up to 4 days. To reheat, transfer the brisket and any juices to a baking dish and heat in a 325°F [165°C] oven until warmed through, 15 to 20 minutes.