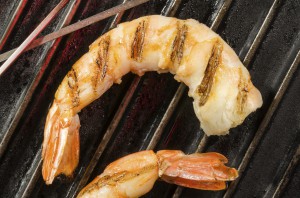 This is truly one of the most delicious and freshest dishes we've made all summer, combining fresh peaches with shrimp wrapped in basil and prosciutto. We adore this for its gorgeous flavor—the salty tang of the prosciutto against the sweetness of the carmelized peaches—and the extra bonus is that it's low in calories.
Now, if you heard about this on our Food Schmooze Party show, you might think the only way to make this on the grill or stove-top is with skewers, because that's the way Chris Prosperi and I first tried it. I did it again recently on vacation and discovered it's a lot easier to make this off the skewers; you can cook each part the way you'd like and there's no danger of the fruit falling off. So here is my updated (2.0) version of the dish, the easiest way possible. (Supermarket prosciutto from the deli is fine; no need to splurge on artisanal brands for this one.)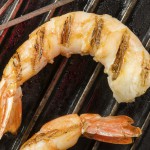 Top-Rated: Easy Grilled Shrimp and Basil Wrapped in Prosciutto with Caramelized Fresh Peaches
| | | |
| --- | --- | --- |
| | | Top-Rated: Easy Grilled Shrimp and Basil Wrapped in Prosciutto with Caramelized Fresh Peaches |
In a heavy-bottomed skillet (I use cast iron), melt butter and a splash of olive oil on medium heat. Sprinkle sugar on the cut side of each peach half and fry, cut side down, leaving it in place for about 5 minutes until it becomes caramelized. (If you prefer to do this on the grill, oil the grill and close the lid.) When the peaches are browned, not burned, flip them over to the skin side, put the heat on low, and cook them covered for 5 to 10 minutes until softened. Check them at 5 minutes to be sure they are not burning. When they're done, set them aside.

While the peaches are cooking, or before, cut the long slices of prosciutto in half. Place one shrimp on a half slice of prosciutto. Top the shrimp with a fresh basil leaf. Wrap the shrimp and basil in the prosciutto. Do this with all the shrimp, making little packets.

Grill the wrapped shrimp on an oiled grate to prevent sticking. Or fry each shrimp packet on medium in a heavy skillet coated with olive oil. As the prosciutto turns brown, about 4 minutes, flip them and cook another several minutes on the other side. (The shrimp inside will cook quickly.) Serve each person 5 shrimp packets, plus 2 peach halves.
We served ours on top of salad greens with balsamic dressing, but you could serve this with potatoes, rice, slaw or grains. If these are apps, put out a platter of them and let your guests go at them. These are delicious with chilled white wine, including Gruner Veltliner, Pinot Grigio, or dry sparkling wine. Check out the list of wines we had with this. What a meal!