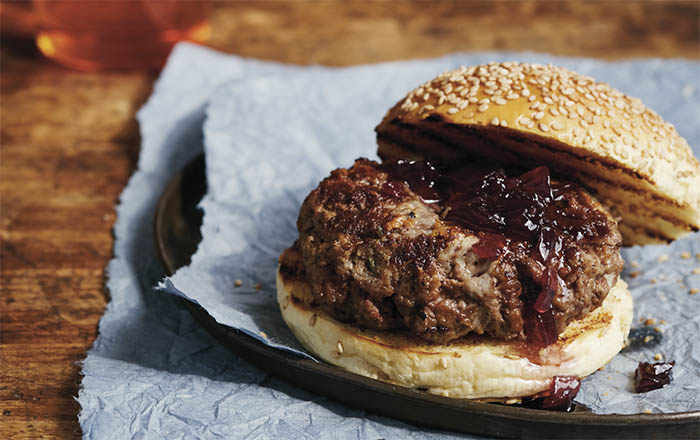 I'm going to boast on behalf of my mom here. She was making fat, juicy, gourmet burgers topped with caramelized onions before most of the chefs doing it these days were even born. Of course back then, I wasn't so keen on her homemade burgers and would gladly have traded mine for a skinny one from a fast-food joint. Foolish. I finally saw the light, and I'm happy to say that both my kids have always preferred a good homemade burger to anything they might get from a drive-through. I knew the moment I tasted this red onion jam that it would be great on a burger, and it is, especially with blue cheese added to the mix. For a tasty variation, try the onion jam on lamb and feta burgers.
— Domenica Marchetti
• ON-DEMAND: Listen to Faith's conversation with Domenica; it aired both in shows about how to make summer last and again during a show about how to make watermelon salad and rosé sangria for a party. •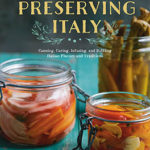 Text excerpted from PRESERVING ITALY © 2016 by Domenica Marchetti. Reproduced by permission of Houghton Mifflin Harcourt. All rights reserved. Photo © 2016 Lauren Volo.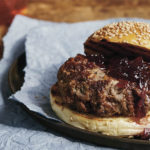 Prepare a hot fire in a charcoal grill or preheat a gas grill on high.

Put the beef in a bowl and sprinkle generously with pepper. Mix gently but thoroughly (I use my hands). Divide into 4 equal portions and shape into balls. Make a deep depression into the top of a ball and press 1 tablespoon of the cheese into it. Press the beef around the cheese to enclose it and pat the ball into a patty. Repeat to make 3 more stuffed patties. Right before cooking, season the patties lightly with salt.

Coat the grill grates with a thin film of oil. Grill the burgers on one side until seared, 4 to 5 minutes. Turn and sear on the other side until nicely charred on the outside and juicy and medium-rare to medium inside, 4 to 5 minutes more. A minute or two before the burgers are done, place the buns, cut side down, on the grill to lightly char them.

Place the burgers on the bottom half of the buns and top each with a tablespoon (or more) of the jam. Top with the upper half of the buns and serve.