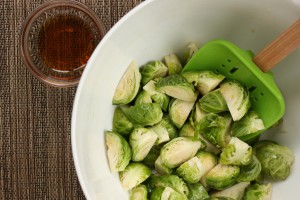 From Faith: As my pal Roma Baran says, "The ingredients for this dish could be put on grass clippings and it would be good." That about sums it up. This is the kind of Chinese inspired dish that would please even die-hard meat eaters because of its chew and flavor portfolio. We're passing it on to you as a salute to our colleagues at Bon Appétit magazine, who are listing this recipe as one of their most popular recipes.
The only adjustment I make here is to quarter the Brussels sprouts instead of half them, simply because I like the additional caramelization you get from smaller chunks. You could serve this as a main dish or a dazzling side dish. (I like it both ways.)

Preheat oven to 425°. Toss Brussels sprouts and 4 tablespoons oil on a rimmed baking sheet; season with salt and pepper. Roast, tossing once, until softened (but not soft) and browned, 20-25 minutes. Set aside.

Meanwhile, mix cornstarch and 1 tablespoon water in a small bowl until smooth.

Heat remaining 1 tablespoon oil in a medium saucepan over medium-high. Add garlic and ginger and cook, stirring often, until garlic is golden brown, about 2 minutes. Add chiles, soy sauce, sugar, vinegar, and 1/2 cup water and bring to a boil; stir in cornstarch slurry. Simmer, stirring, until sauce coats spoon, about 2 minutes. Let cool slightly.

Toss Brussels sprouts with sauce and serve topped with peanuts.