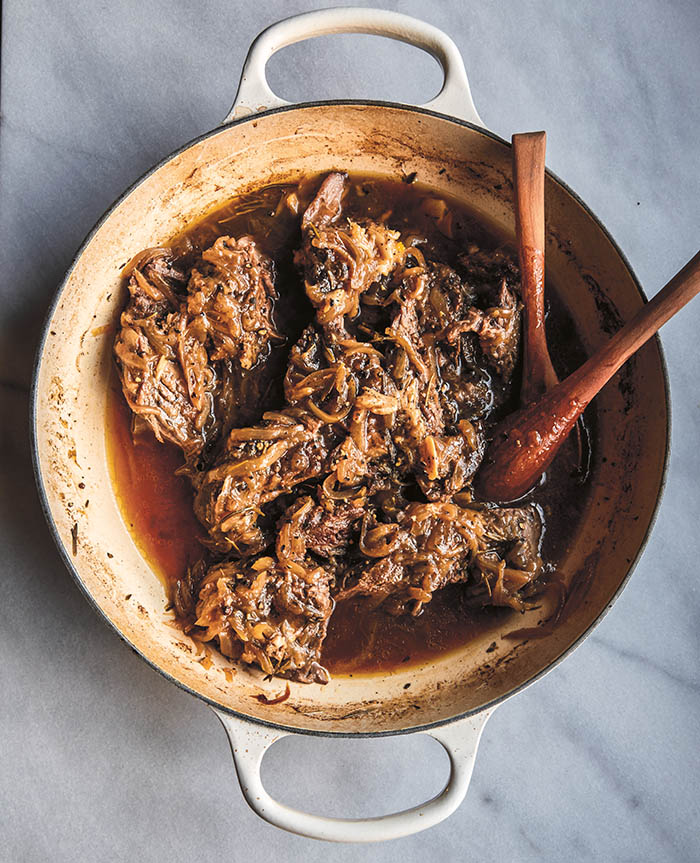 This is one of those miraculous dishes that uses only a few basic ingredients, doesn't require much technique or fussing, and yet produces a delectable and soul-satisfying dish that's superb on its own but lends itself to leftover improvisation.
— Joshua McFadden
• ON-DEMAND: Chris Prosperi served this dish for our pre-show meal. Listen to Faith and the gang rave about this recipe during The Faith Middleton Food Schmooze®. •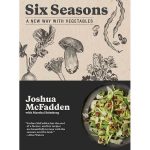 Excerpted from Six Seasons by Joshua McFadden (Artisan Books). Copyright © 2017. Photographs by Laura Dart and A.J. Meeker.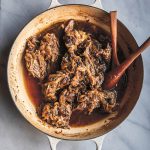 Servings
4
people, with lots of leftovers (which you will want)
Servings

4

people, with lots of leftovers (which you will want)
Servings

4

people, with lots of leftovers (which you will want)

Servings

4

people, with lots of leftovers (which you will want)
Servings:
people, with lots of leftovers (which you will want)
Season the beef generously with salt and pepper, set it on a plate, and leave on the counter for about 1 hour so it comes to room temperature.

Heat a large heavy ovenproof pot with a lid, such as a Dutch oven, over medium-high heat. Blot the beef with paper towels to absorb any moisture.

Add the olive oil to the pot and carefully lay the beef into the pan. Reduce the heat just a touch and cook without moving the meat until the first side is deeply browned, about 6 minutes. Turn the beef pieces and continue browning all sides. Take care that the pan juices don't get too dark.

Once the meat is browned, add the butter, onions, garlic, and thyme sprigs. Season lightly with more salt and pepper. Stir everything around so that the butter and moisture from the onions deglazes the cooked-on juices. Scoot the onions so they're mostly underneath the meat, and cook until the onions are very soft and fragrant, about 10 minutes. Don't let them actually get crisp and browned.

Add the wine and bring to a gentle simmer. Cover the pot and transfer to the oven. Cook until the meat is extremely tender and the juices are thick and tasty. This could take anywhere from 1-1/2 hours to 3 hours, so be sure to allow enough time for thorough cooking.

When the beef is tender, transfer it to a cutting board and let it rest for about 15 minutes. Cut into thick slices, or pull apart into smaller portions, and arrange on a platter. Taste the onions, adjust the seasoning, and pour over the beef.
MORE WAYS:
Build a deconstructed stew: Cut the meat into pieces and fold everything with some boiled and smashed potatoes, celery root, and carrots. Add a touch of water or broth to loosen.
Make a hearty soup: Shred some meat, then combine in a pot with some of the onions and juices, thinly sliced turnips and carrots, and torn kale leaves. Add broth and simmer until all is tender. Serve with crusty bread.
Lay out a spread: Slice the beef and arrange on a platter, smothered with the onions and juices. Serve at room temperature with several different kinds of pickle, good prepared horseradish, and torn bread and butter.
Make my favorite Italian beef sandwich: Heat the beef and onions with their liquid, slice a baguette or roll in half, stuff with beef and onions, and dip it back into the liquid. This is a messy and perfect sandwich.