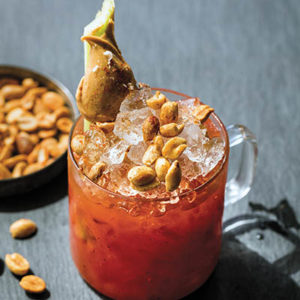 BRIAN BARTELS, New York, New York
GARNISH crushed Seasoned Peanuts, peanut butter–dipped celery stalk, and 3 or 4 turns of freshly ground black pepper
This cocktail was created for Harry Dean Stanton, quiet king of the silver screen. Not because he's known for any roles where he eats peanuts or peanut butter; just because if I had a little extra peanut butter, I would be obliged to share it with Harry Dean. Kris Kristofferson once wrote music lyrics about Harry Dean, proclaiming, "He's a walking contradiction, partly truth and party fiction."
Feel free to substitute Herradura reposado tequila, which has a peanutty profile, for the vodka, or any jam you'd like for the strawberry (I prefer strawberry, as I am still eight years old). The peanut infusion time depends solely on how nutty you want it to be. Good things come to those who wait, all you undiscovered movie stars.
Get the recipe: Peanut-Infused Vodka
— Brian Bartels
ON-DEMAND: Listen to Faith and Brian talk about this recipe, as well as other Bloody Mary recipes from the book.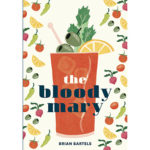 Reprinted with permission from The Bloody Mary, copyright © 2017 by Brian Bartels. Published by Ten Speed Press, an imprint of Penguin Random House LLC. Photographs copyright © 2017 by Eric Medsker

Combine all of the ingredients except the garnish in a cocktail shaker filled with ice. Shake until the fruit jam is fully combined. Strain into an old-fashioned glass filled with ice. Garnish with the seasoned peanuts, peanut butter–dipped celery stick, and pepper. Best to keep the peanut butter end of the celery stick outside of the liquid.