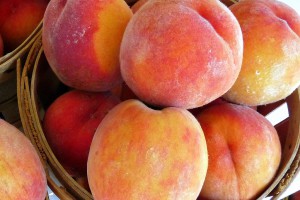 Yet again I've resurrected a recipe from Food & Wine Magazine dating back to 2009. My copy of the recipe on paper is greasy, food-stained, and barely readable because it's a go-to for me – The Fearful Baker. I love this for its simplicity, ease, and divine taste. How could it not be good; it features butter and ginger snaps? – FM
Preheat the oven to 400°. In a skillet, melt 2 tablespoons of the butter. Add the peaches and cook over high heat, stirring occasionally, until just softened, 8 minutes. Add 4 tablespoons of the brown sugar and the lemon juice and cook until the peaches are lightly caramelized, about 5 minutes; scrape into a 1½-quart baking dish.

Meanwhile, in a food processor, pulse the flour and salt with the remaining 2 tablespoons each of butter and brown sugar until the mixture resembles coarse meal. Add the crushed gingersnaps and pulse 2 or 3 times, just to incorporate the cookies.

Press the topping into clumps and sprinkle over the peaches. Bake in the center of the oven for about 15 minutes, until the top is browned and the filling is bubbling. Let cool slightly, then serve.