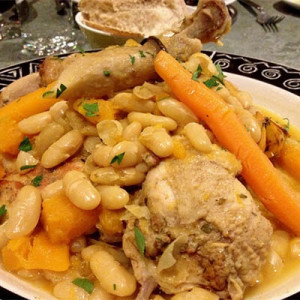 Chef Carole Peck, co-owner of the acclaimed Good News Cafe in Woodbury, shares the perfect hearty dish for this time of year, when winter is often still tangible and spring is in the air. It's Chicken Tagine, a North African dish Carole came to love and perfect while spending time cooking at her house in Provence. This season, Carole's tagine features preserved lemons, artichokes and fava beans—along with peas, new radishes and spring onions. Shad roe is in season and inspiring Carole right now, and soft-shell crabs are coming up on the menu.
Learn more at the Good News Cafe website, and the website for Carole's spring and fall culinary tours of Provence.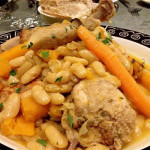 Carole's tagine can be served as is, or with couscous, and fresh cilantro, if you like it.
| | | |
| --- | --- | --- |
| | | Carole's tagine can be served as is, or with couscous, and fresh cilantro, if you like it. |
Combine all of the dry spices, and season chicken pieces with half of the spices.

Place on a baking sheet and roast in a preheated 450-degree oven to brown quickly; approximately 15 minutes.

Remove and place in a tagine casserole or Dutch oven.

Sprinkle over the remaining spices and honey.

Next, layer in all the vegetables, in the order of where they're listed among the ingredients, ending with the kale.

Heat the stock and pour into the tagine.

Cover with a lid and bake in a 375-degree oven for 1 hour, or over medium heat on the stove top