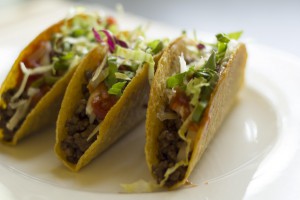 Carol Baugh of Guilford, Conn., is on a mission to eat in a more healthful and calorie-friendly way. Because of our go-light theme, we asked her to share her tasty recipe for steak tacos, which can be done with shrimp, chicken, or assorted vegetables. And since you're using store-bought fresh salsa, this is terrifically easy.
"I stumbled on a taco recipe in Eating Well," says Carol, "but I didn't think it was necessary to make salsa from scratch on a weeknight, not when you can find it made fresh in the produce section of just about any supermarket." This is one of Carol's go to meals. Feel free to play with ingredients, as she does, though she goes light on the cheese.
(Carol Baugh is a Food Schmooze listener and home cook. She had a catering business at age 12.)

Whisk vinegar, chili powder, oil, 2 teaspoons salt and garlic powder in a 9-by-13-inch baking dish. Add steak and turn to coat. Cover and marinate in the refrigerator for at least 1 hour and up to 24 hours.

Position rack in upper third of oven; preheat broiler.

Place the steak on a rimmed baking sheet (discard the marinade). Broil 3 to 4 minutes per side for medium. Transfer to a clean cutting board and let rest for 5 minutes. Thinly slice against the grain. Serve the steak wrapped in warm tortillas and topped with the salsa and cheese.