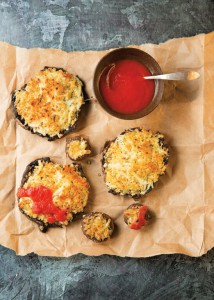 Mushrooms are a mainstay of many a vegetarian's diet as they are substantial, have great texture, and provide that elusive and desirable umami flavor we all crave (even if we don't know exactly what umami is).
But not everyone loves mushrooms, and for some kids mushrooms are one of those acquired tastes. Keep going—they are such a great flexible food that they are worth putting a little elbow grease behind. Turning them into pizza isn't a bad place to start, because mushrooms are a great food to love, and a pretty important one if you are looking for hearty, healthy, meatless meals.
Preheat the oven to 450°F. Lightly oil a rimmed baking sheet, or spray with nonstick cooking spray. Scrape the gills (soft ridgey parts) out of the mushrooms.

Whisk together 2 tablespoons of the olive oil, the vinegar, 1 teaspoon of the minced garlic, and salt and pepper in a small bowl. Brush this marinade over both sides of the mushrooms and arrange them, hollow side up, on the baking sheet.

Mix together the remaining 1 teaspoon garlic, the panko, mozzarella, Parmesan, oregano, and thyme in another small bowl. Drizzle the remaining 2 tablespoons olive oil over the cheese and panko mixture and toss well. Scoop some of the mixture into each mushroom cap, pressing it down slightly into the hollows and making sure it doesn't fall over the edges.

Bake the mushrooms until the cheese mixture is melted and browned and the mushrooms are tender, 15 to 20 minutes. Let sit for a minute or two before serving. Drizzle each with some of the tomato sauce or pass the sauce for people to serve themselves.
A mushroom the size of a hubcap might be intimidating to some kids, or even grown-ups. it's easy to turn this recipe into a bunch of smaller, and more adorable, mini pizza mushrooms. Just use 2 pounds of good-size button or cremini mushrooms (sometimes labeled "stuffing mushrooms"). Use a small teaspoon to scrape out the gills and divide the mixture among the littler mushrooms. You should still be able to cook them all on one baking sheet, and they will be done in 10 to 12 minutes.