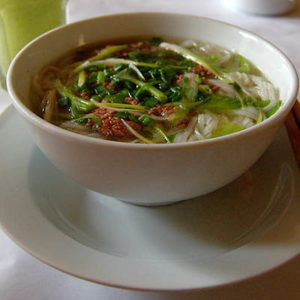 For a soup to really stick to your bones, it's got to have a little protein. Here, thinly sliced beef and beef stock—along with the umami-laden fish sauce—send a message to the brain: THIS is dinner. And a most-satisfying one at that.
ON-DEMAND: Listen to Faith and the gang discuss their favorite homemade soup recipes on The Faith Middleton Food Schmooze®.
Photo: dominique bergeron/Flickr, creative commons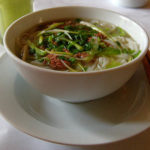 Bring the beef broth to a simmer in a small pot over medium high heat. Add the fish sauce and the sugar a little at a time, tasting for strength. How much should be used will be determined by the strength of the fish sauce and personal taste. With the stock still at a simmer, turn off the heat and add the sliced beef, onion, and noodles. Stir until the beef is just cooked. Place some of tomato, scallions, and jalapeno pepper into 4 large soup bowls. Ladle the hot soup on top of the vegetables. Place the remaining vegetables along with the chopped cilantro, basil, mint, and limes on a large plate and allow your dinner companions to flavor their own soup. Add hoisin to taste.