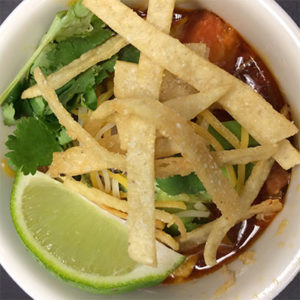 Chris Prosperi's Pozole (Mexican Stew) warmed us during a recent pre-show meal. Many traditional pozole recipes include pork, but Chris's version features chicken and a cup of chopped chorizo. Hearty and all-together satisfying, make this on the next snow day. You'll be glad you did.
ON-DEMAND: Listen to Faith and the gang discuss this recipe on The Faith Middleton Food Schmooze®.

In a large soup pot place the chicken thighs, onion, carrots, celery, chorizo sausage, garlic, and turnips. Pour in the chicken broth and water and bring to a simmer. Simmer for 45-60 minutes. Add the drained pozole. Season with salt and pepper to taste.

Place each thigh into a large soup bowl. Ladle the broth and vegetables over the chicken. Garnish with cilantro, cheese, tortilla strips. Serve with lime wedges on the side.