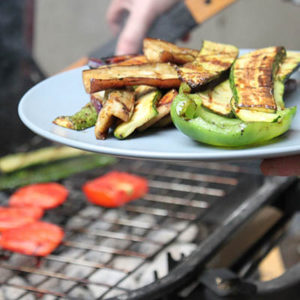 Once you've finished grilling your chicken, beef, or pork, don't turn off that grill! While it's still hot, throw some veggies on and make Chris's grilled ratatouille. It's even better the day after. Chris grills a batch the night before he wants to eat it and then makes sandwiches with the mix the next day. Use it to top fish, or mix it in with pasta, or serve with eggs. Goes with everything!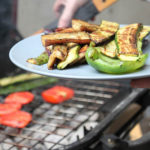 This is an easy recipe to make your own. Don't like zucchini (or it isn't quite abundant yet)? Skip it. Want to add bell peppers? Go for it.
In a large mixing bowl combine the eggplant, zucchini, 1 teaspoon of kosher salt, dry basil, and vegetable oil.

Place the eggplant and zucchini slices on the grill and cook for 1-2 minutes. Flip over vegetables and continue cooking for 1 minute. Remove from grill and set aside.

Coat the onion slices and tomato halves with the oil and seasoning mixture (salt and dry basil). Place the tomatoes on the grill skin side down along with the onions. Cook both vegetables for 2 minutes on each side. Remove and let cool slightly along with the eggplant and zucchini.

Place all of the vegetables on a cutting board and chop into ¾ inch pieces.

In a clean medium mixing bowl toss the chopped eggplant, zucchini, onions, and tomatoes with 1 teaspoon of kosher salt, the chopped basil, balsamic vinegar, olive oil, and sugar. Taste and adjust seasonings with salt if needed.