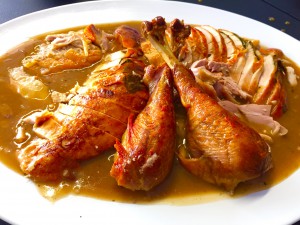 Chris Prosperi gives full credit for his Make Ahead Turkey recipe to the wondrous Ina Garten, who first gave us all the idea in her invaluable cookbook, Make It Ahead. What Chris does here is tell you how to make his fabulous gravy, then use it to warm your turkey ahead of the dinner, no matter how you cook the bird. Goodbye stress, and so fantastic. We're all doing it this Thanksgiving!
On-Demand: Listen to Faith and Chris talk about his gravy recipe as well as many other Thanksgiving recipes.
Need more holiday recipes? Check out our page devoted to Our Best Thanksgiving Recipes.

1

turkey

cooked, any size and cooking method you like
Servings:
makes about 3 cups
Take large oven proof serving platter and pour about 1/3-1/2 inch of hot gravy on the bottom of the platter. Then carve the turkey and arrange the slices on top of the gravy. We like to fan the breast meat in the middle and leave the drum sticks whole (see picture.) Place the platter in a preheated 325 degree oven for 15 minutes or until the turkey is warmed through. Serve extra gravy on the side.
Heat oil in a 4 quart sauce pot and add onions, garlic, and chopped bacon and cook over medium heat for 7-10 minutes. Stir in the paprika and cook for an additional 2 minutes.

Pour the red wine into the saucepan and simmer until it is reduced by half. Add in the 2 cups of broth and maple syrup and return to a simmer. Mix the corn starch with the cold water and while stirring the gravy, pour in the corn starch mixture to thicken the gravy.

Taste and adjust seasonings with salt. Stir in butter and puree with immersion blender for smooth gravy or leave chunky. The day of add the turkey drippings.
Update: As a variation, Chris sometimes adds balsamic vinegar (for its acidity), a splash of Worcestershire sauce, and a little black pepper to his basic gravy. Faith  suggested substituting just a touch of Marmite for the Worcestershire sauce. Check out Chris's Super Simple Gravy recipe.